Partnership will provide residents on-demand access to hospitalist physicians for virtual care.
Lawrence Street Health Care Center Enters Agreement with Sound Physicians for Tele-Hospitalist Services at Their Facility on Nights, Weekends & Holidays
Tomball, TX — Lawrence Street Health Care center, a healthcare organization providing skilled nursing services in Tomball, has contracted with Sound Physicians to provide extended physician coverage to their skilled nursing residents after-hours.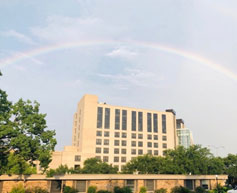 To further enhance the quality of care provided, the nursing staff will be supported by on-demand tele-hospitalist services from Sound Physicians from 5 pm to 8 am Monday through Friday, with 24-hour coverage on weekends and holidays.
Sound Physicians is a nationwide physician-led healthcare organization focused on improving quality, reducing costs, and improving outcomes in the communities across the country. Sound employees over 3,500 clinicians in hospital and post-acute care programs in 40 states, and the organization sees 1.5 million hospital admissions annually.
"One key to our telemedicine program for skilled nursing facilities is having engaged, highly trained hospitalist physicians available during particularly vulnerable times in a patient's care — nights and weekends. The other key is well thought out and meaning workflows developed to address areas of vulnerability in a patient's care," said Brian Carpenter, National Medical Director, Telemedicine, Sound Physicians. "We have successfully addressed both, and look forward to partnering with the Lawrence Street Health Care Center clinical staff to deliver excellent care to their patients and residents."
Sound Physicians will go-live with tele-hospitalist support at Lawrence Street Health Care Center beginning on November 1, 2021.
Sound Physicians connects post-acute providers with skilled tele-hospitalists for virtual care on nights, weekends, and holidays. For 20 years, our high-performing and affordable care models have combined physician leadership, clinical process, and technology to consistently improve outcomes across the care continuum. We are committed to bridging the clinical gaps in post-acute and long-term care for our partners and their communities.