Lawrence Street Health Care Center offers peace of mind if you are caring for a loved one with Alzheimer's disease and other types dementias within our secure memory care neighborhood. We have been the premier memory care unit for Tomball, Magnolia, Spring, & The Woodlands area for over a decade.
Residents enjoy their own dining room, activities area, and secure outdoor courtyard specialized just for them. The secure memory care neighborhood requires keypad entry and exit to protect residents from unsafe wandering. We also have experienced charge nurses and certified nursing aides to meet their unique needs.
The activities are specially designed for individuals with memory care challenges and are designed to create a positive, stimulating environment for them. Music and pet therapy create positive emotional experiences for residents. Other activities include designing arts and crafts for residents to provide a sense of accomplishment.
Lawrence Street's memory care program is uniquely designed to meet your loved one's needs whether they need a short-term stay as they recover from a hospital stay, permanent care, or in need short respite care.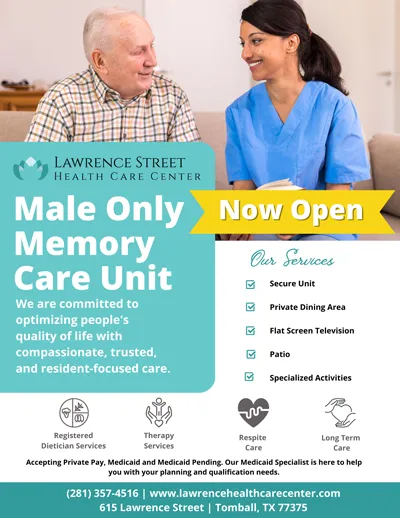 Memory Care in Tomball, Texas:
Memory care facilities in Tomball, TX provide specialized care for people suffering from dementia or Alzheimer's disease. Staff at these facilities are trained and experienced to handle the unique challenges associated with these conditions.
Individuals with memory-related conditions can live in a safe and secure environment at memory care facilities in Tomball, TX. All areas are accessible only to residents and staff, and the facilities have secure entrances and exits. As a result, residents are protected from potentially dangerous situations, such as wandering outside or getting lost.
Dementia Care in Tomball, Texas:
Dementia is a condition that affects cognitive abilities, including memory loss, language difficulty, and disorientation. A person with dementia may also experience mood swings and behavioral changes. Dementia care facilities in Tomball, TX provide specialized care for individuals with dementia, including help with daily activities and managing their symptoms.
Tomball, TX dementia care facilities provide residents with a supportive environment that fosters a sense of community. There are various activities and programs available at the facilities designed to keep residents engaged and stimulate their minds. Games, arts, and crafts, as well as social events, are examples of such activities.
Alzheimer's Care in Tomball, TX:
As a progressive brain disorder, Alzheimer's disease affects memory, thinking, and behavior. Alzheimer's care facilities in Tomball, TX provide specialized care for individuals with Alzheimer's, including help with daily activities, managing symptoms, and providing emotional support.
Residents of Alzheimer's care facilities in Tomball, Texas can enjoy a wide variety of programs and activities that are designed to stimulate their minds and keep them active. Games, exercise classes, and musical events can all be part of these activities. Moreover, the facilities offer a secure and safe environment to ensure residents' safety.
Memory Care
Your Loved One Deserves The Best Skilled Nursing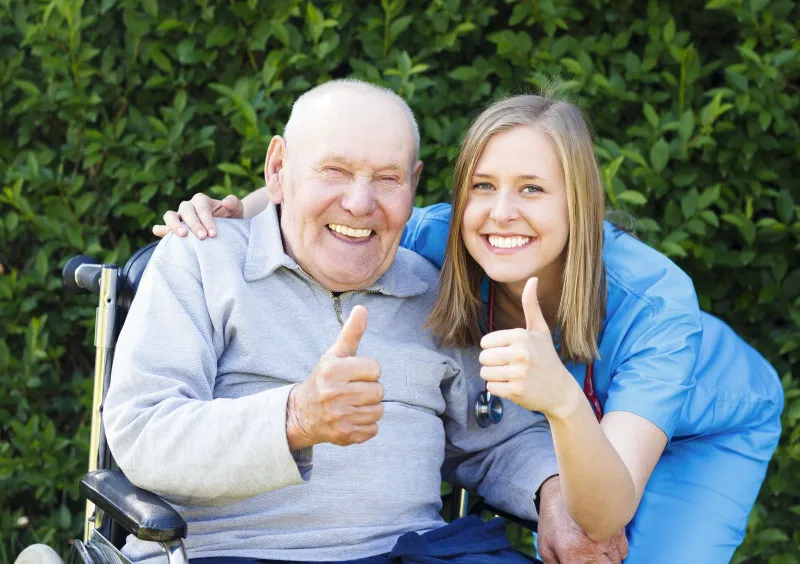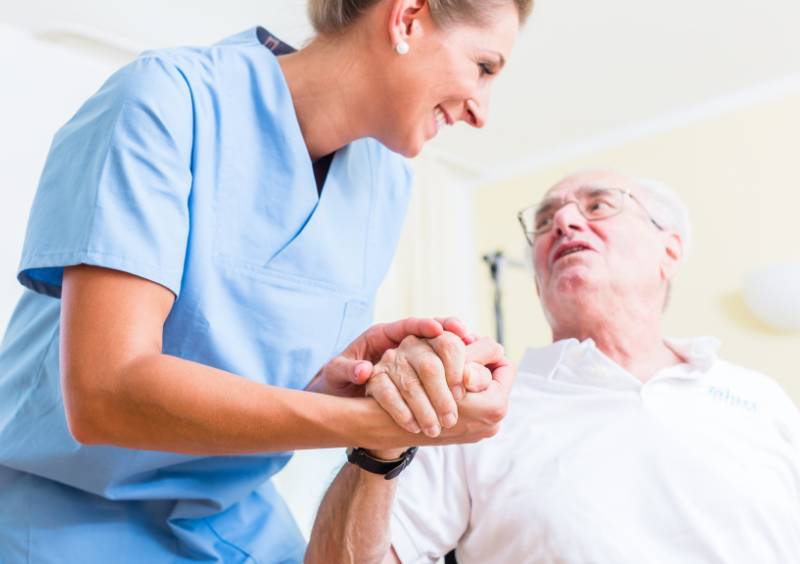 If you're in a position where you think your loved one could benefit from memory care, CALL TODAY 281-357-4516 to see if we have availability in our Specialized Male Only Memory Care Unit.
In conclusion:
Tomball, Texas memory care facilities offer specialized care for people who need help managing their symptoms and daily activities. Memory care, dementia care, and Alzheimer's care facilities in Tomball, TX offer residents a supportive environment that fosters a sense of community. Providing memory care facilities in Tomball, TX with experienced and knowledgeable staff as well as diverse activities and programs that stimulate the mind, they are an excellent option for seniors with dementia.
If you or a loved one is in need of memory care in Tomball, Texas, be sure to visit https://lawrencehealthcarecenter.com/. For the best care for a loved one, contact our team of caring professionals.
Alzheimer's and Other Dementias
With the help of our team of highly-trained psychiatrists and experienced Memory Care nurses, your loved one can keep their minds sharp and active for as long as possible. Our activities are designed to stimulate the neural pathways needed for healthy cognition and memory retrieval, and encourage residents to play games, solve puzzles, get creative with arts and crafts, and celebrate their successes.
My dad has been a resident at Lawrence Street for almost 6 years. Although he's not the same as he was when we admitted him there, the staff has provided him excellent care over the years, as well as support for me and my sisters. The building is clean, smells good, the staff is extremely friendly, from the help to the administration. His doctor, Dr. Jafri is wonderful. LS is his home and I am so grateful to everyone there.
May not be the newest place in town or have all the bells and whistles, but it is clean, bright and homey. The staff is caring and they always have smiles on their face. My mom is happy there. I give them a thumbs up!
Love Lawrence St, great staff, great residents, great doctors. The corporate DON, Patricia is spot on and the administrator definitely cares about the residents and staff. The dietary staff are amazing! They really shine and go the extra mile to make sure the residents get what they want. You know the food is good when you see staff eating there for lunch, even the receptionist and managers eat from the dining room with the residents.